"Fallen Angel Theatre Company has become a part of the firmament of this most extraordinary of cities, where we value our cultural life so deeply.....they are really epitomizing what the city is about: It is supposed to be cutting edge, it is supposed to be where voices that aren't heard - get heard. It is supposed to be where new ideas breakthrough - and that is what Fallen Angel Theatre Company is all about."
The Honorable Mayor Bill de Blasio
Fallen Angel Theatre Company
Presents
The US Premiere of CELL
by Paula Meehan........
" Rise and shine, little piggies. Mama Sow has a bone to pick. A bone to pick? A bone to chew! With one of you..."

Shortlisted for best new play by the Irish Times!
"Playwright Paula Meehan spares no gritty detail of reality, and director John
Keating is right there with her.....Each one of the actresses in Cell
is absolutely brilliant" -The FAB MARQUEE
http://thefabmarquee.blogspot.com/2009/09/review-cell-1st-irish-festival.html

Directed By

JOHN KEATING*



Featuring:
RUTH KAVANAGH*
LAURA KNIGHT KEATING*
AEDIN MOLONEY*
KATHERINE O' SULLIVAN*
LAOISA SEXTON*

September 8th - September 20th 2009
Gene Frankel Theatre, 24 Bond Street, New York, NY 10012
After a Fallen Angel Theatre Company reading of CELL in 2009 for the organization of Hour Children. Thank you to Sr. Tesa and Jane Stanicki for this wonderful opportunity. Hour Children is committed to the compassionate and loving care of children of incarcerated women.
A BIG THANK YOU FOR ALL YOUR SUPPORT FROM THE CAST & CREW OF CELL
Special Thanks go to the following, without whom Fallen Angel Theatre Production of Cell could not have happened.
Jane Stanicki top left & Sr. Theresa Fitzgerald (top row 2nd right) with the cast of Cell &The Ladies from "Hour Children"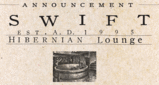 The Kimberly Hotel, New York
Fitzpatrick's Hotel New York